A brilliant, eloquent, thoughtful man like Mumia Abu-Jamal languishes on death row while a racist, narcissistic sexual predator/economic terrorist resides in the White House corrupting what's left of a crumbling democracy, furthering the insidious agendas of corporate control and white supremacy, increasing destruction of the environment, creating international tensions that could lead to war, dividing the U.S. population to a level which causes people to fear civil war, continues corporate welfare while helping wealthy business executives financially rape the rest of us and put more families in the streets…

Do I need to continue?

Law, uh, I mean Order Enforcement powers started a war on the Black Panther Party in the late 1960s when they saw people who looked and thought differently than they creating a place where the religion of Capitalism wasn't needed. They were showing us that you can feed, clothe, educate and provide decent lives for ALL chilldren – not just "our" children. They showed us that medical care could be given to ALL people without putting corporate profits above the well-being of human beings. They tried to show us a different way – one in which compassion counted and profiting on misery is accepted as the horrible crime it is everywhere outside the self-deceived world of Capitalism.

The business executives currently running the U.S. are parasites. Mumia Abu-Jamal is a hero. Let's regain compassion, justice, integrity and truth.
Moorbey'z Blog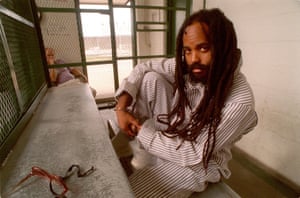 The letter was dated 30 August 2016. Written in black ink in spidery, meticulous handwriting, it proclaimed at the top of the page: "On a Move!", the mantra of the Move group of black liberationists from Philadelphia who clashed violently with the city's police force 40 years ago, sending nine of them to prison for decades.
The author was Mumia Abu-Jamal, who is the closest thing that exists today to an imprisoned Black Panther celebrity. He joined the Black Panther party in the 1960s when he was just 14, and later became a prominent advocate for the Move organization.
For the past 36 years he has been incarcerated in Pennsylvania prisons, including two decades spent on death row, having been convicted of murdering a police officer at a Philadelphia street corner in 1981. His case has reverberated around the…
View original post 3,014 more words